Main uses
The condenser header opening machine equipment is a special equipment for adding the fixed length round aluminum tube through pressing and punching to the core collecting pipe of parallel flow condenser. It is one of the essential equipment in parallel flow radiator production line.
Two types of collecting pipes can be formed automatically: parallel flow condenser special-shaped collecting pipes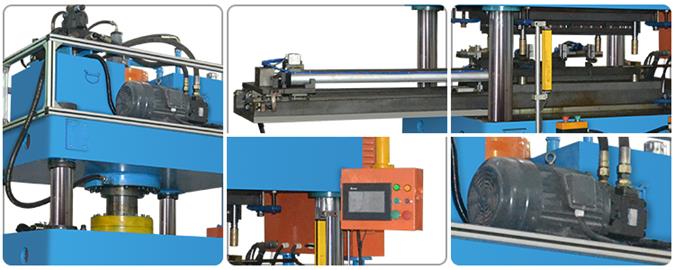 main features
condenser header opening machine Manually inserting the condenser aluminum tube into the mandrel, after the two hands operate the starting button, the equipment is automatically positioned,
and through the core, clamping, clamping to oil, pressing (spray lubrication), striking, core pulling, lifting and automatic rewinding, the process of punching the collecting tube of the parallel flow condenser is completed.
The device's active force is hydraulic transmission and pneumatic assisted by spray lubrication, with four guide column structure, simple operation and maintenance, one machine with multiple functions, mold loading and unloading chute, quick replacement of different specifications collecting manifold mold, stable operation, adjustable speed block, and maximum working pressure 100T.
The hydraulic control system of the equipment is designed by cartridge valve with large flow rate, which has the advantages of fast speed
stable operation and convenient control. The electrical control system is a combination of PLC programmable controller and digital quantity, with excellent control effect and stable and reliable performance.
It also has a light curtain protection system to provide more safe and reasonable protection measures for operators.
condenser header opening machine It can make these parts
technical parameter
Operation mode: manual feeding, automatic forming and blanking
Number of workpieces processed each time: 1 piece
Outer diameter of processing pipe × wall thickness: ¢ (12 ~ 50) × (1.0 ~ 1.5)
Effective length of processing pipe: 200-650mm
Width and tolerance of machining long slot hole: 1.0 ~ 3 ± 0.03 mm
Length and tolerance of machining long slot hole: 16 ~ 36 ± 0.03 mm
Molding time: 20 seconds / piece
The total power of the equipment is 7.5kW
Working pressure of hydraulic system: 8-21mpa
Working pressure of pneumatic system: 0.5-0.8mpa
Equipment dimension: 2500mm × 2100mm × 2750mm
Total weight of equipment: 4T